How the Pūkorokoro-Miranda locals are saving our native species
In November 2019, 100 locals attended an open day in the Pūkorokoro-Miranda catchment to share progress on the Miranda Integrated Catchment Project and help people set up animal pest trapping on their properties to increase biodiversity. Taking an integrated approach to catchment management and co-designing solutions with landowners is essential for success. It takes time to build and implement and this project has become the flagship for Living Water in this catchment. Western Firth Catchment Group Trust is planning to scale up this approach across the whole western Firth of Thames over the next few years.
Following on from the successful day, Living Water and the Western Firth Catchment Group have engaged the services of a contractor to roll out possum control across the Miranda sub-catchment.
Our contractor is working closely with landowners to identify prime possum habitat on their properties, with special attention to vulnerable native bush remnants. Target areas have had Goodnature A12's and/or Trappinators installed, with promising results so far. Small trials of the newly developed AT220's are also underway.
The degree of community support and enthusiasm for this project has been fantastic, watch the video below to see the community work in action.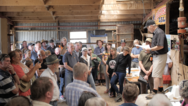 Communities are saving our biodiversity