Floating Wetlands Trial
About the project
Water flows into Waikato's peat lakes via agricultural drains and waterways, which can contain contaminants. Floating wetlands are a nutrient management tool that have been designed for ponds, lakes and slow-flowing waters. They consist of emergent aquatic plants growing on a buoyant mat that is positioned in the water to capture incoming contaminants. The roots of the aquatic plants spread into the water, removing nutrients as the plants grow. Living Water is trialling floating wetlands in a farm drain that flows into Lake Areare.
In early 2019 we partnered with Landcare Research to ensure we had robust science to prove the effectiveness of floating wetlands as a tool for improving freshwater quality.
BENEFITS
Reduced nitrogen and phosphorus entering the lake
The wetlands may also provide increased biodiversity and habitat
Potentially a useful tool with low to no impact on productive farming systems
PROGRESS
Floating wetlands installed in December 2015
Initial results are promising with Living Water and Landcare Research funding extensive montioring to determine effectiveness of nitrogen, suspended sediment and phosphorus removal
Monitoring is expected to be completed June 2020 enabling us to determine the scalability of implementing floating wetlands
Floating wetlands are an artificial mat covered in plants, put on top of a waterbody. They can go onto drains, on lakes, anywhere that's a waterbody.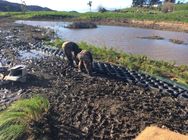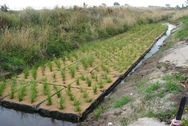 This could be a great tool to improve water quality without impacting on productive farming systems.