Floating Wetlands Trial
About the project
Water flows into Waikato's peat lakes via agricultural drains and waterways, which can contain contaminants. Floating wetlands are a nutrient management tool that have been designed for ponds, lakes and slow-flowing waters. They consist of emergent aquatic plants growing on a buoyant mat that is positioned in the water to capture incoming contaminants. The roots of the aquatic plants spread into the water, removing nutrients as the plants grow. Living Water is trialling floating wetlands at Lake Areare.
BENEFITS
Reduced nitrogen and phosphorus entering the lake
The wetlands may also provide increased biodiversity and habitat
PROGRESS
Floating wetlands installed in December 2015. Monitoring results show a 50% reduction in suspended sediment in water downstream of the floating wetland, and a 50% phosphorus removal efficiency.
The effect of the floating wetland on different forms of nitrogen varied over time, but total nitrogen concentrations at inlets and outlets were always greater than the water quality standards set by the Waikato Regional Council. This shows that floating wetlands might not be a helpful solution for reducing nitrogen to the levels we need.
No further monitoring of the floating wetland will occur as the extent of findings are sufficient to determine effectiveness in this particular lake environment.
Floating wetlands are an artificial mat, populated with plants, put on top of a waterbody. They can go onto drains, on lakes, anywhere that's a waterbody.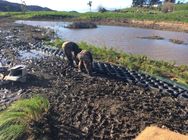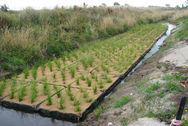 If you can imagine hydroponics, it's the same sort of system. Just like hydroponics that take all the nutrients out of the water column, so do these plants.