Hydro-seeding Trial
About the project
Planting riparian margins with low lying native vegetation is a well-known and beneficial technique used to stabilise banks, shade water and reduce nuisance weed growth. Unfortunately, many retired land areas (e.g. land next to wetlands and drains/waterways) are steep, difficult to plant and difficult to maintain. Living Water has commissioned Erosion Control Ltd to trial planting hydro-seeding native sedge seeds in riparian zones to determine if it is a successful and cost effective restoration approach compared to conventional planting. If the trial proves that hydro-seeding is successful it could be rolled out regionally and/or nationally, significantly accelerating riparian restoration efforts on and off farm.
We know that planting, particularly native planting, around our freshwater environments is really important. This is a way to speed up the process and hopefully make it easier for everyone.
BENEFITS
Potential cost savings and greater efficiencies
Increased riparian planting resulting in contaminant reduction and freshwater ecosystem improvements
PROGRESS
First hydroseeding trial carried out in 2017, was not successful due to nonviable seed
Repeating the trial in 2018
Hydroseeding completed in May 2018, monitoring underway
News updates
Vlog showing hydroseeding in progress here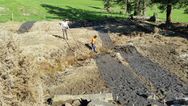 Native plants around freshwater bodies provide bank stability, shade, habitat for insects and fish, but also other things like leaf litter. It basically tricks the stream into thinking it's surrounded by native forest.