Building international linkages
About the project
Living Water is collaborating with the Pūkorokoro-Miranda Naturalists' Trust (PMNT) to support their conservation activities and demonstrate to international stakeholders that responsible dairy farming includes connecting ecosystems on a global scale. We provide PMNT with annual funding for surveying and monitoring wading birds' migration across the East Asian Australasian Flyway (Pūkorokoro-Miranda, North Eastern China, Korean Peninsula).
PMNT has a long association with conservation groups along the East Asian Australasian Flyway and has worked in China and other sites along the flyway since 1999.
Benefits
International recognition of dairy farms thriving with nature
Global reputation building
Progress
Living Water started supporting these efforts in 2014
PMNT's involvement and successful relationship building has been a major contributor to enabling DOC to progress discussions with Chinese authorities on formal ecosystem protection initiatives. An agreement between DOC and the Chinese Forestry Commission to protect areas of intertidal habitat in North Eastern China was signed at Pūkorokoro Miranda in 2015. China is also an important market for Fonterra, so there are commercial benefits to further developing the Flyway relationships and the agreement with the Chinese Forestry Commission.
News updates
May 2018: Incredible TVNZ video of Pūkorokoro-Miranda shorebird ecologist heading to North Korea - trip funded by Living Water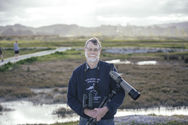 Living Water has recognised the connections that these shorebirds make on their migrations to other parts of the world, particularly in east Asia, especially China, and on to Alaska and Siberia. Healthy mudflats here are part of a network of habitats that enable these shorebirds to sustain these massive migrations. Everything is connected on a global scale.