Okarika Pocket transformation project
Why are we working in the Okarika Pocket?
The Okarika Pocket is special peat-accumulating wetlands including swamps, fens and bogs supported mainly from rainfall and groundwater. The Okarika Pocket is a sub-catchment of the Wairua River catchment that includes the Otakairangi and Wairua River wildlife management reserves. Surrounded by dairy farms and modified by drainage, these two wetlands are by far the largest remaining in the Hikurangi Floodplain. Both reserves contain unique habitat types now rare in Northland, which make the Okarika Pocket the ideal place to observe and measure changes in water quality resulting from freshwater biodiversity improvement projects and changes to farm management practices.
What is the project?
Living Water is supporting a catchment approach through collaboration with farmers, community, Iwi, hapū and stakeholders to identify, codesign and prioritise projects that improve freshwater outcomes. The focus is on partnering with landowners on 17 dairy farms to complete Farm Environment Plans (FEP). On-farm projects will be implemented and monitored, then case studies and costings shared with others to accelerate the uptake of solutions across the Wairua River catchment and Northland.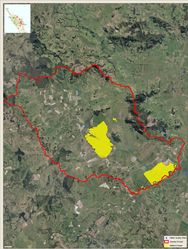 What's been done?
The project began in 2014 with baseline ecological value assessments and a monitoring plan completed in 2016. A Catchment Condition Survey completed in February 2018. Hydrological research completed in 2019, that identified where significant sediment issues were located, focussed action within the pocket. Ngā Kaitiaki O Ngā Wai Māori and Northland Regional Council helped determined where in the Okarika Pocket to concentrate efforts.
By 2020 12 farms had completed their FEP. The plans identify priority sites on farms, and projects are co-designed to meet agreed freshwater outcomes. This includes over 5,000 metres of fences constructed and approximately 100,000 native plants being planted.
Ongoing water quality sampling at flood scheme pump stations began in mid-2016. Water quality monitoring stations were installed in the Otakairangi Wetland in 2018 to record water quality changes resulting from implementation of on-farm projects identified in FEPs. Since 2021 Ngā Kaitiaki o Ngā Wai Māori have carried out water quality monitoring, fish surveys and cultural assessments. Early water samples indicate that water quality seems to be improving. Interestingly, one planting site had kiwi footprints – a positive sign for native biodiversity.
What did Living Water learn?
Improving freshwater quality requires system changes at the catchment level. Degraded water quality affects entire catchments and requires a whole system approach because interconnected ecological systems (water, soils and biodiversity) are damaged and need fixing together. People are critical to improving water quality and biodiversity. Improving water quality involves changing people's mindsets as much as how they farm, and successful change requires every landowner in a catchment working together in partnership with iwi, councils, and government. Collaborative freshwater work should be designed as people change processes, and be mana enhancing. By training mana whenua in the scientific techniques to monitor water quality, their capacity and capability to restore Kaitiakitanga and raise the health, wellbeing and mauri of the river is being supported.