Engaging with the community
About the project
Community engagement is key to any project. Once the project is over, it's the community that keeps it alive: in the case of the Waikato Peat Lakes, they are the ones voluntarily carrying out pest and weed control, and championing the area as a place to be visited and enjoyed.
Living Water's wildlife habitat restoration project creates many opportunities for the community to get involved – for example, maintaining pest trap lines, planting, and spotless crake conservation.
In order to undertake restoration activities, Living Water improved the public access to the lake. This allows locals and tourists to access the lake easily and explore.

Finally, the lake restoration helped to change Ohaupo towns identity. The community pushed to change their roadside 'welcome' signs to feature Living Water imagery identifying their peat lakes and water birds as a major source of pride.
Benefits
Improved public access to the lakes increases awareness of restoration efforts and their natural beauty while also increasing their potential economic value to the local community through tourism.
Farmers as shareholders in Fonterra can take pride in seeing an improvement in an ecosystem through their investment in Living Water. The projects' sustainability is increased if community engagement is increased.
Progress
Neighbouring landowners take pride and maintaining trap lines
Trapping by Ruatuna Lake users group – in Lake Ruatuna, there are up to 30 traps (mainly DOC 200s and 250s, and Timms) catching rats hedgehogs and mustelids
Community and Community groups have taken part in at least 20 events and have planted 40,000 to 60,000 plants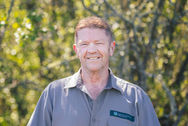 PROJECT IMPLEMENTATION AND MONITORING
Completed 2019