Reducing Contaminants Using Peak Run Off Control Structures
What is a Peak Run-off Control Structure?
Peak run-off control structures (PROCS) are essentially small dams constructed in farm drains to reduce the eroding power of floodwater that erodes banks leading to sedimentation in streams and prevent contaminants such as sediment, nitrogen and phosphorus being washed into waterways.
What is the purpose of the Living Water trial of PROCS?
In heavy rainfall, the ground can't absorb all of the water. As the ground becomes waterlogged, rainfall flows over paddocks into drains, picking up sediment and contaminants and washing it into streams which flow into lakes and rivers. When a stream floods, it can erode the banks and riverbed increasing the sediment in the water. These sediments and contaminants damage aquatic habitats and can kill aquatic life, such as plants, fish and invertebrates living in the water. That has consequences for fish and birds that require healthy, uncontaminated freshwater to survive.
Living Water wanted to test PROCS within the Waituna Creek catchment, to determine if they could reduce the volume of contaminants entering Waituna Lagoon from smaller waterways. In 2021 two PROCS were constructed on a farm in the Carran Creek sub-catchment of Waituna Lagoon.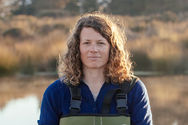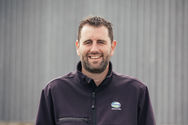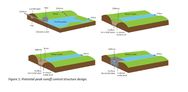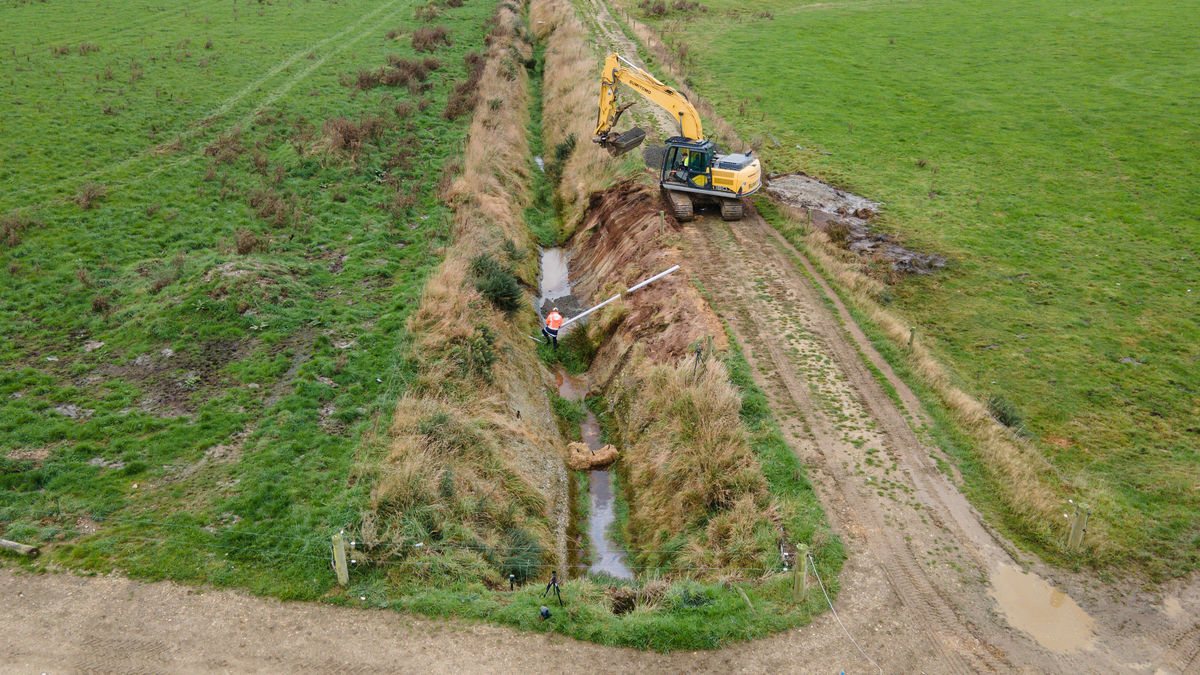 Who could use PROCS?
Farmers and landowners, regional and district councils, catchment groups, river care groups, community groups, and iwi.
How do PROCS work?
There are multiple designs of PROCS, including wooden weirs with a small outlet pipe, and earth/gravel bunds with permeable rock segments. Designs allow for water to pass through the structures in normal weather conditions but will hold back water for a day or two during heavy rainfall. As the water is slowly released, contaminants, including sediment, nitrogen and phosphorus, drop out behind the structure rather than being washed downstream. The flood water is contained in the length of drain upstream and is still able to wash over the top of the structure to prevent paddocks from flooding. This reduces the volume and speed of water over several days and reduces the erosion of banks downstream. It also lets the sediment settle and build up behand the structure where its easily removed by a digger and put back on the land.
What has Living Water learnt so far from trialling PROCS?
Understanding how freshwater catchments operate is essential before selecting sites to construct PROCS. In 2016 Living Water commissioned Land and Water Science to undertake a Physiographic project in the Waituna catchment. Physiographics is the mapping of water and contaminant movement under different levels of rainfall. Differences in soils and geology alter the composition of water meaning similar land uses can result in different water quality issues simply from different soils or rocks in the area. The Physiographic initial assessments identified approximately 400 sites across the Waituna catchment where structures could be placed. A wooden weir and a gravel dam were constructed at two sites in the Carran Creek sub-catchment identified as having potential for the greatest impact.
Since the trial began in May 2021, the wooden weir structure has retained some sediment and is looking to have decreased peak flow during heavy rainfall while maintaining its integrity. The wooden structure is able to be built for fewer than $3,000, operated with little required maintenance, and can withstand peak runoff. Further analysis of results, including impacts on fish passage will ultimately determine if these structures are a sucess and whether we recommend them to be built elsewhere or not.
The gravel structures have not performed as well and have required rebuilding after flooding and while they retained sediment, they are not considered to be structurally sound at this point. However, the trial is not over yet and with a few tweaks and possibly a more detailed look at the size of the catchment above it might be that this design also works well.